Chocolate Covered Peeps & Marshmellow Peeps
Find every type of Easter peeps imaginable including my favorite Chocolate Covered Peeps, purple peeps, blue peeps, yellow peeps, pink peeps, purple bunny peeps, peep hen in many different colors perfect for filling your Easter baskets with color and yummy chocolate!

For those of you who really love these marshmallow treats, with a tasty coating of finely granulated sugar and its soft fluffy and sweet taste, and if you love chocolate, you'll really love the taste of these two combined in one.

These popular Easter peeps have been a favorite in every Child's Easter baskets and even a favorite with us adults with their bright colors and their cute little shapes and their sweet, delicious taste

Chocolate Covered Peeps & Easter Peeps
What do you get when you get a soft sweet marshmallow treat with some creamy chocolate? You get an unforgettable yummy peeps marshmallow treat to tantalize your taste buds.
I hope you find what you are looking for with this selection below to make everyone's holidays sweeter.


Easter Chocolate Covered
Peeps 8 Piece
Valentine Peeps
Just imagine the look on your sweethearts face when you give her a peeps marshmallow heart shaped treat or I love you sprinkled with a fine dusting with sugar, or cute little teddy beat peeps covered in chocolate… She or he will thank you with kisses!
Christmas Peeps & Holiday Peeps
These Christmas peeps are the perfect stocking stuffers, with their cute Christmas tree, gingerbread men, reindeer or snowmen shapes, some even dipped in chocolate are perfect for your holiday treats.
Halloween Peeps
No holiday gets left behind so here are your Halloween peeps shaped into ghost, cats and pumpkins with that traditional yummy peeps taste.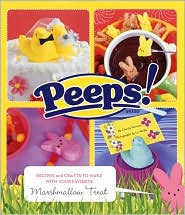 Peeps: Recipes and Crafts to
Make with Your Favorite
Marshmallow Treat
Well now they come in different shapes for all the holidays, including Christmas peep treats, Valentines peeps and Halloween pumpkin peeps.

The taste of these marshmallow peeps are so addicting you can't just eat one and luckily for us who love them we don't have to wait tile aster to eat them because they are available all year round!
Chocolate Covered Peeps
Return From Chocolate Covered Peeps Back to Chocolate Easter Candy

Return Back to Chocolates and Chocolate Candy Home Page